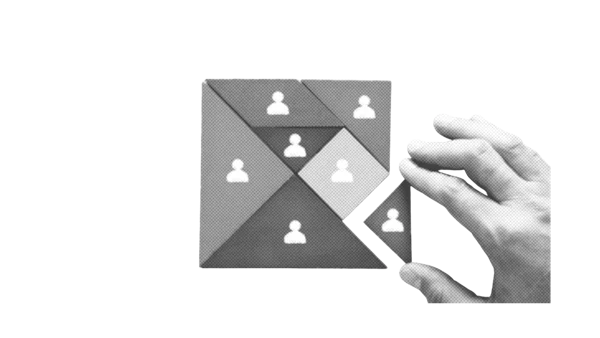 Why use a CRM? Spoiler: to take care of your customers and boost your business
Every company wants to get closer to its customers and target new ones regularly. This article aims to provide a comprehensive understanding of the advantages of utilizing CRM software to enhance customer engagement and simplify work processes. Although not every company opts for a CRM, it is a common goal for businesses to continually reach out to existing and potential customers.
The 6 main benefits of using a CRM software
While each type of CRM software provides your company with a different set of advantages, understanding in more detail all the overall benefits of using a CRM system can be essential in guiding you to making the right decision.
Here are some of the key benefits of using a CRM software:
Benefit 1: More profound knowledge of your customers
A company's success is contingent upon its ability to craft products and services that customers want to buy into and that they will want to buy into over and over again.
A CRM system can assist you in building long-lasting relationships with customers by aggregating the correct data about them. As such, a CRM will give you a 360-degree view of each and every customer.
All customer data is stored in one place, making it easy to access and compare. When it gathers information about your customer, a CRM gathers basic contact information, social media accounts, their potential relationship to other contacts in your existing data, their communication preferences, and more.
Your CRM will make it seamless for you to craft a communication strategy uniquely adapted to any given customer's needs.
Many companies have difficulty tracking their communication strategy histories. Using a CRM enables you to save all the activities, projects, sales, and messaging between you and your customer.
You can trace everything in the customer journey from start to finish. Consequently, you will be the first to know when your customer needs change, as you will have a panoramic view of their behavior and interaction with your services.
You'll know what worked in the past, what didn't, what concerns they voiced, and when they expressed satisfaction.
Benefit 2: Premium segmentation
With a CRM software, you can turn your contacts into target audiences and improve the effectiveness of your marketing and communication efforts.
Segmentation means dividing into separate parts or sections. When you apply this to your contact lists, there's hardly anything that you can't do.
CRM systems allow you to break down data into categories according to specific and customizable criteria. As such, you can create focused lists to better communicate with your customers.
Not only does segmentation allow you to reach out to specific customers accurately, but it can also be used by anyone in your company, in any team. More commonly, segmentation is used in sales and marketing to run customer and account-based marketing campaigns and analyze your pipeline and leads.
Benefit 3: Better customer retention
What means business more than targeting customer communication? If you communicate with your customer correctly, the odds that they will convert into a loyal customer is pretty high.
When you use a CRM system, you ensure that you target the right customers with the right message at the right time. The result? Increased sales and revenue.
Keeping your customers happy should be at the top of your list—and a CRM system is critical in helping you do that.
When customers use your products or services, they buy into a promise that you make them as a provider. Using a CRM system will help you stay true to these promises by setting up alters informing you of when to reach out.
Since your CRM helps you understand the customer journey from start to finish, you will know what they need and when to remind them that you can give that to them. To do so, your CRM system puts B2B and B2C marketing dashboards, email campaign management tools, and direct-to-customer landing pages at your disposal to craft the best-in-class customer experience.
Benefit 4: Anticipate needs and communicate better
When using a CRM system, you track your customer's behaviors. As such, you gain insights into their buying habits.
With a CRM system, you gain access to customer interaction history, allowing your salespeople to sell faster and more. You will be able to anticipate needs and react quickly to their ever-changing buying habits.
Understanding customer habits through your CRM software can also allow you to develop exclusive offers and new products you know will succeed. Doing so, your CRM system helps you make better, more informed business decisions.
When you make better business decisions, your retention rate increases, and your authority in your market's white space increases.
Not only do your retention rate and authority increase, but you also gain the skills to establish yourself as a quick-to-respond company that operates on the basis of respectful professionalism.
With a CRM system, you can use customizable, ready-to-use documents, letters, email templates, newsletters, and invitations, effectively speeding up your communication with customers to grab their attention before they click out of your website.
You can also schedule text messages and email communication weeks or months in advance.
Benefit 5: Enhance data protection
When you collect customer data, you want to ensure that you are creating a safe environment where customers can feel comfortable providing you with the information you need to better target their needs.
Most CRM systems have an in-built GDPR-related functionality, meaning they will ensure that your data complies with the latest regulations.
GDPR compliance is complicated and tedious. A CRM system will do the work for you, effectively reducing your expenses and allowing you to focus on what's important: customer experience. With a CRM system, you can:
Obtain permission to store and use data;
Send automatic notifications to tell customers that you would like to store their data;
Manage subscription and communication preferences;
Update personal details for entire groups of contacts.
A CRM system with an in-built GDPR functionality will ultimately build trust between you and your customers.
Benefit 6: Better collaboration within your organization
A company's downfall can easily be a lack of evangelized processes. No matter the company size, if processes are not developed for efficiency, customer-oriented results, and to boost company visibility and sales, you will undoubtedly encounter many roadblocks in getting your company off the ground.
Using a CRM system is a sure way to increase your efficiency. It automates and streamlines all your customer-related processes, effectively allowing your employees to work hand-in-hand on simultaneous projects.
Some CRM systems offer whiteboards, where your employees can work in real-time to solve problems. Salespeople can access customer service data to better understand the reach of their projects, and vice versa, allowing customer service teams to better deliver the experience the marketing team sets out to sell.
The best CRM, in this case, is a cloud-based one, as it is hosted in the cloud and can be accessed anytime, anywhere, and on any device with an internet connection.
The more access your employees have to customer data, the better they will be able to embody your brand and gain authority in the industry.
What are the different types of CRM systems?
There are three main types of CRM systems:
Operational CRM
As one of the most common types of CRM systems, an operational CRM is built to blend business processes like marketing, sales, and customer service into one easily accessible software.
An operational CRM stores information on customers, leads, and employees to capture data across the customer lifecycle.
With an operational CRM under your belt, your company can enjoy the following:
Marketing automation: to find the best way to offer products to customers via emails, phone calls, and ads on social media;
Sales automation: to track your sales pipeline and understand your leads, contacts, and trend forecasting;
Service automation: to bridge the gap between service teams and customers via live chats, chatbots, and customer email aggregation.
Analytical CRM
Analytical CRM enables mid to large organizations to make sense of the data the software aggregates and gain critical insights into the customer experience. With an analytical CRM, you can track the following:
Customer preferences;
Channels,
Touchpoints,
Trends,
Forecasting.
One thing to keep in mind: the insights analytical CRMs provide are just as good as the data your team entered, so if your team is not trained adequately, you may experience some inconsistencies in the data outcome.
Collaborative CRM
A collaborative CRM is designed to help your teams work cross-departmentally to share customer data and gain maturity in their customer relationships. As your team collects insights from others within your company, you can be sure that your customer service performance will increase.
There are two main functionalities of a collaborative CRM:
Channel management: to identify the best communication channel to speak to existing and potential customers;
Interaction management: to track all the touchpoints between your company and your customers to ensure no communication gets lost in the shuffle.
You should consider a collaborative CRM to break down the silos between teams and develop a uniform customer experience company-wide.
What are some of the leading CRM systems?
Hubspot is a business growth management software that allows you to manage your contacts, sales, digital marketing initiatives, pipeline, and track your leads. Your Hubspot CRM lets you have a single customer view, to individualize a customer's experience and store all their information: their online behavior, personal details, and a trace of their interaction with your company.

ClickUp features numerous customizable features for your business to reach and exceed its goals with its scalable architecture and intuitive user interface (UI). With ClickUp, your team can gain the project management maturity it needs to connect with its customers on a deeper level.

Freshsales is a product offered as part of the Freshdesk app. It is a high-powered CRM tool that provides a single contact management hub with an intuitive interface that companies of all sizes can use to manage leads. Primarily designed for sales professionals, Freshsales follows your sales workflow at every step to provide comprehensive insights, boost sales, and prioritize pipeline opportunities.
eWay-CRM is a CRM solution principally designed for Outlook users in the retail industry with Android devices. It enables them to enhance customer relationships and turn data into successful audience development strategies.
Zoho CRM uses a single software to manage multiple high-priority campaigns more effectively. It allows your team to handle campaigns from planning to execution and get support on SMS, webinars, events, surveys, social, and email.
Your takeaways
There are three main types of CRM softwares: operational, analytical, and collaborative. Ideally, you will choose a service that provides all three so that you can optimize your customer experience, anticipate the needs of your existing and potential customers, and develop comprehensive, streamlined processes that each one of your employees can benefit from.
Using a CRM software is critical. Without its data-collecting capabilities, there will always be a gap between your customer experience and your business goals. You will struggle to understand customer behavior and provide services and products that meet the audience's needs worldwide.
Best tools for you