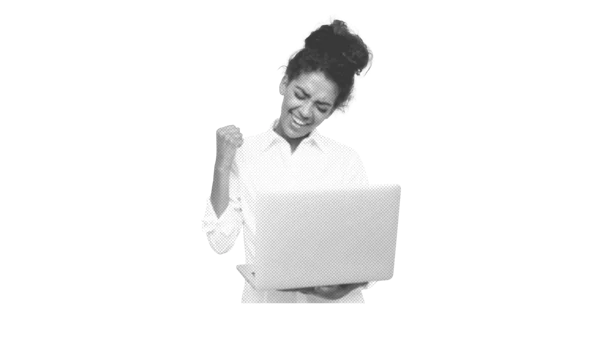 ERP and CRM: What is the difference?
Here are the first elements to understand the concepts of ERP and CRM:
CRM stands for Customer Relationship Management. It is a more precise and accurate way to talk about relationship management and interactions with contacts. Your sales team can use CRM software to prospect and build customer loyalty.
ERP stands for Enterprise Resource Planning. It is a process used by companies to manage and integrate key parts of their businesses. With ERP software, you can plan and manage products and services with a 360° vision.
In this article, appvizer explains the differences between ERP and CRM software, and provides you with a list of cloud-based solutions.
From dedicated ERP software to all-in-one management software including a CRM module, you may find the tool that meets your needs!
CRM software, the ideal tool for sales representatives
What is the difference between ERP and CRM software? To begin, CRM software is an essential tool for sales representatives. This type of software is used to manage contacts and integrate them into a database, track interactions, manage sales activity, and analyze a company's performance with a dashboard.
The benefits of using a CRM system
A CRM system is an operational tool: when you return from an appointment, for example, you can write down that the contact has to be called back within three weeks. An alert will remind you when the time comes.
Moreover, you can use a CRM system to sell more by customizing the commercial offer and building customer loyalty.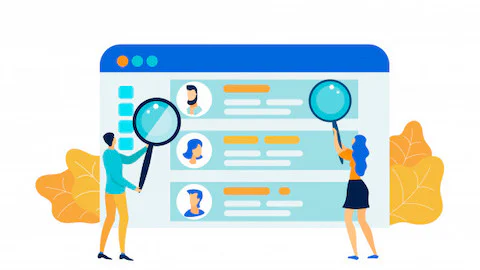 © Freepik
This type of software also allows you to improve the quality of technical support and customer service by saving all customer issues on a single platform.
You can make sure, for example, that you give a personalized offer to a customer every two months so that he feels valued.
A full toolkit for sales representatives
When sales representatives are prospecting, they need to have a wide array of tools:
a sales pitch
samples if necessary
digital documents: commercial documents, PowerPoint or PDF presentations, instore video (in-store), promotional spots, etc..
quotes, invoices and purchase orders
products and price sheets
Regardless of the products they are selling, sales representatives have to manage a considerable amount of logistics. They must :
plan their trips, set itineraries
contact prospects, make appointments
optimize their time, have back-up plans in case of cancellation
And, all of this on the go. That's where CRM software is crucial. It can be accessed remotely: sales representatives can use CRM software from smartphones or tablets any time and anywhere.
An all-in-one tool
Some CRM software combines information and content together in the same place.
Recently, CRM software has become an all-in-one tool for sales representatives. They can use this software to find the entire customer relationship history, customer information and sales support tools.
During their visits, sales representatives can find the address of a potential customer they are about to visit, but also access PDF presentations or promotional videos to better convey their message.
Performance monitoring
Sales representatives have a portfolio of customers to maintain, and prospecting objectives to achieve. To help them meet these goals, some CRMs offer collective and individual progress, with an "objective" module.
A counter shows everyone's results and this stimulates the entire team to do better.
ERP software for business management
ERP software is defined as a group of modules linked to a single database. These modules may include:
sales and customer management
HR management
invoicing
accounting management
etc…
At the heart of the company
An ERP software is a centralized management tool that ensures that all departments share the same data, to avoid data silos.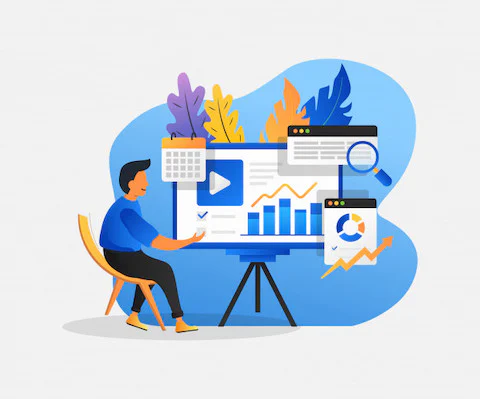 © Freepik
For example, if a sales representative creates a new contact in the CRM module: when a sale is concluded, the contact will be sent to the customer file, then, to the invoicing tab.
This is the same information that the accounting department enters. This not only saves time but also harmonizes data internally.
A global tool
ERP software is often associated with large companies.
Why?
its cost: ERPs are often more expensive than CRM software
its features: global and in-depth, they are adapted to large structures.
Implementing ERP software in a company requires training staff. Indeed, this type of software can be used by all departments and it is essential that everyone knows how to use it.
ERP editors often provide integrators to :
analyze the environment and the associated needs
deploy the solution internally
teach staff how to use the software through training courses
A solution to save resources
ERP software improves internal processes by avoiding repetitions, but also from an organizational point of view.
Most ERPs include a configuration tool that allows the production department to duplicate products and save time. Planning tools also make it possible to forecast production capacities and workloads through tables such as the Gantt chart.
A piloting tool
An ERP software is also a valuable decision-making tool. At the heart of the company, it contains a set of relevant data to be analyzed.
With this solution, you will be able to monitor the company's situation in the form of dashboards at any given time. And this can be done at different levels: financial and accounting, sales and even HR.
Examples of ERP and CRM software on appvizer
Here are a few cloud-based solutions that you can use that covers both CRM and ERP. See how your business processes can be integrated with each tool.
Sage 100cloud, the ERP solution for SMEs
Sage 100cloud is a flexible ERP software that can adapt to the continuous changes of a growing company.
Sage 100cloud has an open code base. This will allow you to fully configure application settings and customize the software to meet all of your needs.
Sage 100cloud's list of features include:
automated bank feeds & reconciliation
custom office and visual integrator
sales and customer management
budgeting & planning
reporting and dashboards
and much more...
Salesforce Sales Cloud, the world's leading web-based CRM
Salesforce Sales Cloud is a cloud-based CRM software that helps you track and monitor customer information and interactions in a single platform to follow more leads.
With Salesforce Sales Cloud, you will be able to increase sales, build customer loyalty and explore new opportunities. Without any software or material to install, you can begin using the software in no time to monitor and improve your relationship with customers, employees and suppliers.
Salesforce Sales Cloud list of features include:
marketing automation
document management
collaboration tools
reporting and dashboards
sales force automation
and much more…
SAP Business One, an ERP for small businesses
SAP Business One is a complete business management software designed for small businesses.
With this easy-to-use ERP, you will be able to streamline your company's processes: no more re-entering data and no more loss of information!
SAP Business One covers all aspects of your business, from accounting and logistics (supply chain) to purchasing and CRM.
SAP Business One list of features include:
financial management
sales and customer management
purchasing and inventory control
analytics and reporting
mobile application
Choose the right one for your needs!
Which software should you start using first?
Your decision depends on your needs and priorities:
if you need to control your supply chain, ERP is the best choice
if your activity requires lots of interaction with prospects, CRM is ideal (with a mobile version for field sales representatives)
if you want to offer a better customer experience with a view to build customer loyalty by supporting your users, consider a customer support module
Also, think about your future needs: this reflection allows you to anticipate possible compatibility problems with third-party solutions that you already use, or plan to use.
Software editors also highlight the number of APIs (Applications Programming Interface) of their solutions, a reassuring argument for making your choice.
You don't have an ERP or CRM software yet? A piece of advice: opt for a solution that is either modular, and therefore scalable, or open and compatible. A precaution you won't regret!
Best tools for you