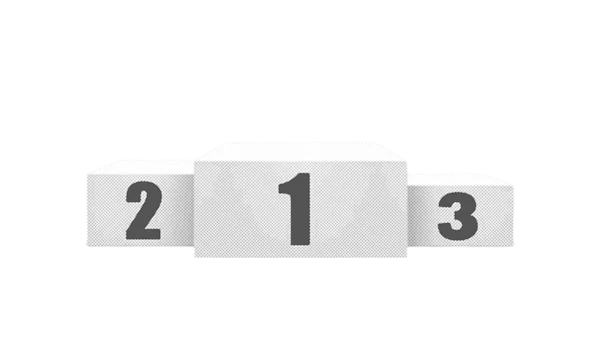 Top 5 Free Open Source CRM software for small businesses
Are you looking for free open source CRM software?
For sales teams that are customer-centric along with marketing departments, CRM applications can be fundamental for lead management at 360 degrees to achieve greater productivity from end to end, optimize speed in managing the sales process to improve customer loyalty and boost customer engagement with an increase in ROI.
With the assumption that the average cost is 1500 dollars* per user per year for running an installed CRM, we can assume that this is very expensive for a small business. This is where we can begin to consider Open Source CRM solutions that may be a good option to integrate from an economic point of view.
In which case would this really be a good choice? Which Open Source CRM solutions are truly worthwhile? Let's assess the best free open source CRM for small businesses in the following article.
*Average price observed among the 5 market leaders
What is a free Open Source CRM?
A free CRM refers to software that helps you organize your relationship with potential and current customers for increased customer satisfaction. The term "Open Source" means that the software meets certain characteristics such as:
The computer program cannot be sold.
The software code is accessible and can be modified.
Applications derived from Open Source CRM must be available.
The Pros and Cons of Open Source CRM
Pros
The software itself is free of charge. It can be downloaded directly from the community website.
Developments are fast due to the large community of developers.
User communities are very engaged on forums and answer your questions when they are not already processed.
Cons
Deployment, updates, maintenance and hosting at your expense. The time spent doing these operations is long and the journey is full of technical pitfalls. This time spent often costs more than a license from a proprietary CRM.
The functional coverage of open CRM is very high and sometimes too much for the needs of a very small business.
The ergonomics of free CRM is often lagging behind proprietary software. However, this is less and less the case.
Overall Ranking
Open Source CRM
CiviCRM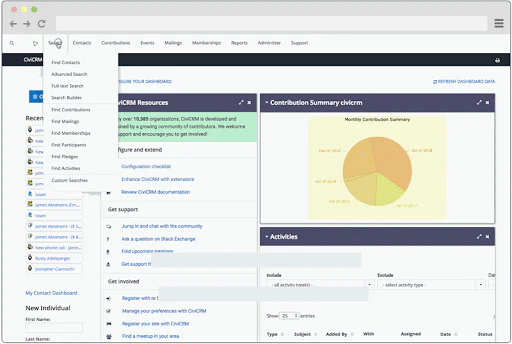 Created: 2004
Number of downloads: 11,022 active platforms
Technology: PHP, MySQL, need to have Drupal, Joomla or Wordpress
CiviCRM is an interactive CRM designed for the very specific needs of non-profit organizations. Among the features that are not found in a traditional CRM are: member management, donations and family reunification. CiviCRM therefore does not manage clients but members or benefactors. It is quite possible to adapt CiviCRM to a commercial context but this practice is not recommended because it is likely to create bugs. Finally, CiviCRM can only be used in addition to a CMS (Drupal, Joomla! or Wordpress) and not independently as any other CRM. CiviCRM is used by NGOs such as Amnesty International and Creative Commons.

Build, Engage, and Organize Your Constituents
Learn more about CiviCRM
EspoCRM
Created: 2014
Number of downloads: 50,000 active platforms
Technology: PHP, MySQL
EspoCRM is the perfect CRM for VSEs and SMEs. Its highly ergonomic interface makes it easy to navigate between all the functions that a medium-sized company needs: account management, agenda, sales process monitoring and automation, messaging and activity monitoring. This tool is an option for companies that want to start with a simple tool that does not require any special training. This CRM is relatively young but has very positive feedback through word of mouth.
SuiteCRM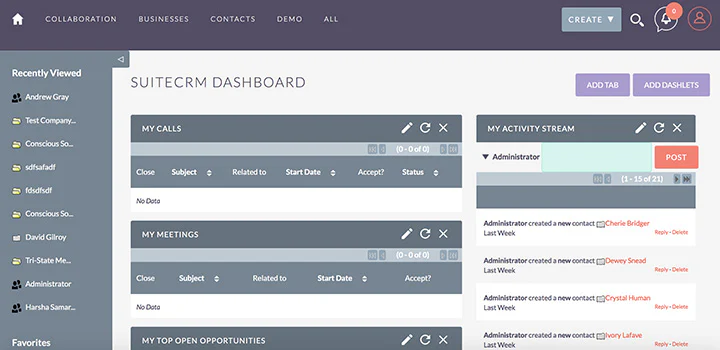 Creation: 2013 (by SugarCRM)
Number of downloads: 910,000
Technology: PHP, MySQL or PostgreSQL
SuiteCRM is a software suite for customer relationship management (CRM). It too was created by SugarCRM and maintained by SalesAgility. It is a free and open alternative application to Salesforce. SuiteCRM has been downloaded more than 900,000 times since the original version. It has been adopted by very demanding organizations such as the NHS (National Health Service) in England, and with their loyalty are eager to promote Open Source integrations internally. The SuiteCRM project has been rewarded many times for the quality of the software. The SuiteCRM community is now made up of 25,000 members.

A modern open-source CRM software
Learn more about SuiteCRM
vtiger CRM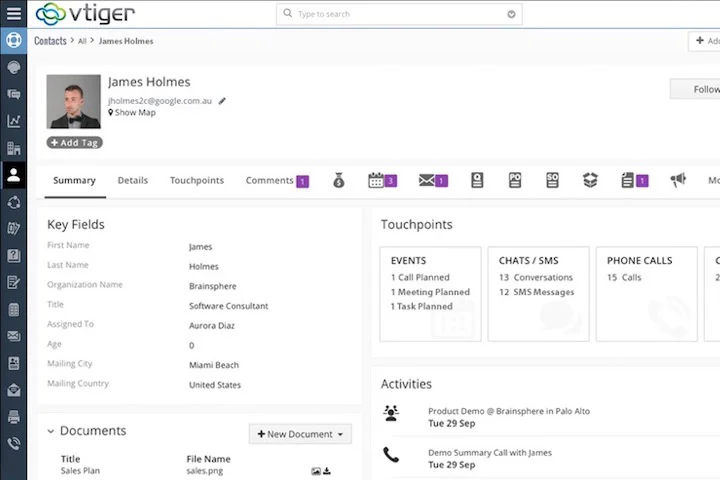 Creation: 2004 (by SugarCRM)
Number of downloads: 4.8 million downloads
Technology: PHP, MySQL or PostgreSQL
Vtiger CRM is a BtoB software developed in 2004 by SugarCRM database. Vtiger does very well in account and contact management, customer support, product reference catalogues, sales performance monitoring and personal agendas. The functional coverage of vtiger CRM is just as important as its competitor Salesforce.com, though vtiger is primarily aimed at SMEs.
Odoo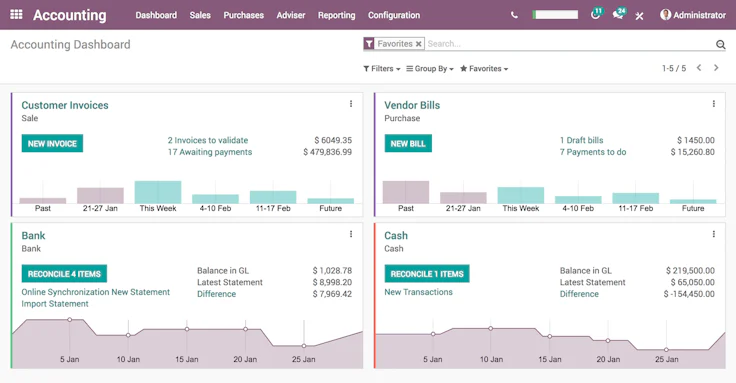 Created: 2005
Number of downloads: 3,700,000
Technology: PostgreSQL
Odoo is the world's fastest-growing business management software. Odoo has a complete suite of professional applications covering all business needs from CRM, to e-commerce websites, manufacturing, inventory and accounting; all information communicated down the pipeline to create a seamless workflow.

The most complete modular ERP on the market
Learn more about Odoo
SugarCRM Is No Longer Open Source
You will no longer find SugarCRM in this ranking as it has not been an Open Source product for several years now. The company is currently positioning itself as a direct competitor of Salesforce. That being said, vtiger CRM and SuiteCRM has taken over this exciting challenge with great success.
Paid CRM Alternatives to Free CRM
Naturally, if the free tools do not offer the features you are looking for, you can always opt for a paid sales force automation solution. In this case the variety is certainly greater and you can also find a cloud-based CRM system. If it is the economic investment that is frightening, companies often offer 30 days of free trial time so that you can get familiar with the tool before you invest in it.
Here are some popular CRM software solutions:
Zoho CRM
Salesforce
Microsoft Dynamics
From CRM to ERP, There Is Only One Step
Many CRMs are moving towards ERP and most ERPs have a customer relationship management module. In fact, if you do not find what you are looking for in the above selection then the CRM you are looking for may be an ERP. The list of Open Source ERPs offering CRM such as Dolibarr, Compiere, etc. is large enough to offer more choices and opportunities for your company.
Conclusion
Open Source CRMs are a good option from an economic point of view if their implementation and maintenance is simple. This depends mainly on the product and your team. The advantage of free CRM is first and foremost functional because the development rate is faster than that of a proprietary CRM. It is also possible to use a specialized hosting provider that will make CRM available on the Cloud to help you with technical issues. The list of trusted Open Source CRMs is relatively small, which is why open source ERPs with a CRM module should be considered in the list of available options.
Best tools for you