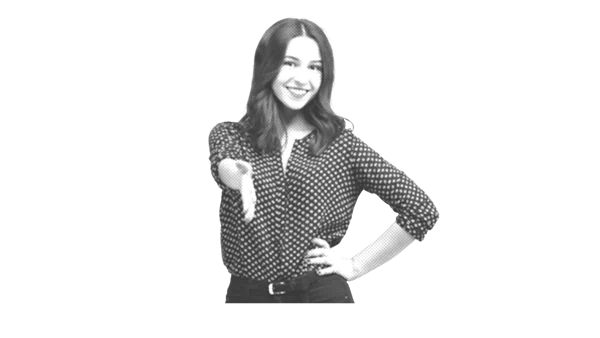 Improving your projects with the right CRM
A Customer Relationship Management software is a tool that supports your projects - communication. Communication with your current customers, communication with your potential customers, and communication between and within your project teams. Once you choose the best CRM solution for your business and implement it within your processes, it will become the backbone of each project.
But what exactly is a CRM project?
Customer Relationship Management (CRM) can be discussed both in terms of strategy and technology.
CRM Strategy is a company's philosophy on how to manage relationships with current and future customers.
CRM Technology is a product, often in the cloud, that companies use to track and analyze interactions with their customers.
Once a company has established its CRM strategy, it becomes a simple task of choosing the CRM technology that best corresponds with its philosophy and then integrating it into projects.
Customer Relationship Management (CRM) technology supports your marketing and sales funnels by organizing and managing all your interactions with current and future customers. When you use a CRM to organize your projects, you will be able to easily improve your business relationships by staying connected to your customers, providing quality support, and generating new leads.
CRM software records basic and advanced customer information such as
phone numbers,
emails,
websites
social media
details on the customers' communication habits
customers' communication preferences.
The software gives you a birds-eye view of your customers at a glance. It can also help you communicate with team members and track deliverables through the project. You can set meeting and deadline reminders and even analyze marketing campaigns.
What are the benefits of using CRM for your project?
CRM provides a wide range of benefits to businesses that are looking to expand their client base and increase revenue.
Better organization
At its most basic, CRM software is a place to collect and manage all pertinent information about current and potential customers. All of the client profile data and all communications are stored in the same place, making it quick and easy for any team to access.
Better customer service
When all of your client's information is in the same place, it is easier to address any issues that might arise as well as to identify their interests so that you can provide them with top-tier customer service, inspiring stronger loyalty in the process.
Better customer retention
CRM software can use purchasing and communication patterns to identify customer interests but it can also help you identify customer pain points and analyze why churn happens so that you can begin to create and implement solutions.
Automate tasks
CRM software allows you to automate certain sales funnel and communication tasks, saving time for your teams and allowing them to focus on what they do best.
Better conversion rates
CRM gives you the benefit of tracking sales and marketing campaigns to ensure they are reaching your targeted audience and having the desired effect. Establishing great customer service and strong communication pathways will also increase new client conversion.
How does each team use CRM in a project?
Many different teams within your business will be able to use and benefit from CRM technology including:
Sales team
Marketing team
Customer service team
Supply chain team
HR team
The sales team will use CRM to analyze their sales funnels and pipelines. They can track the progress of team members, products, and campaigns in hitting their targeted numbers. The sales team will spend less time doing data entry and more time selling.
The marketing team will be able to easily map customer journeys, giving them a better understanding of their own campaigns. They will be able to use customer profile data to analyze likes, dislikes, and sentiment toward specific brands.
The customer service team can easily access a customer's previous interactions with the company across all platforms – email, phone, social media, etc. This will allow them to facilitate problem resolution.
The supply chain team can track all interactions with partners and suppliers including meetings, follow-ups, requests, and other notes so no information falls through the cracks.
The HR team can automate certain onboarding processes and manage resource, skill, and certification needs to support other teams.
What do the different CRM products offer?
Let's take a look at some of the CRM products currently on the market and what they can bring to your projects. The first part of this list includes all-one CRM products while the second part of the list compares CRM products that have individualized solutions so that businesses are able to pay for only what they need.
All-in-one products
Salesforce Sales Cloud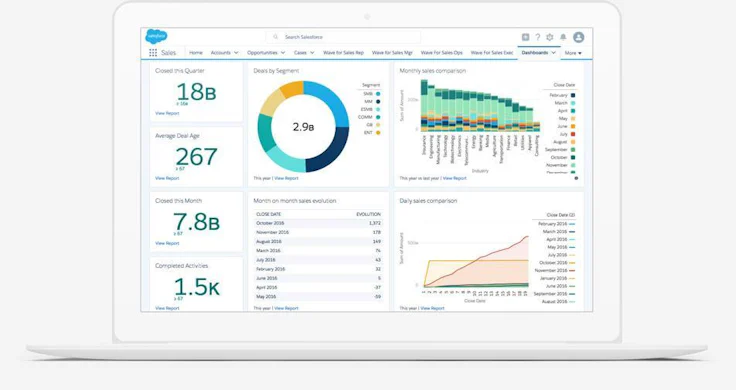 Sales Cloud is a cloud-based CRM software created by Salesforce that has both desktop and mobile app functions. Its features include
contact management to keep track of contact and social data for each customer
opportunity management to track deals and activities, create quotes, and congratulate team members
lead management to track new leads through the sales funnels and assign them to the proper team members
reports and dashboards to build and modify reports and charts
sales forecasting to have a complete view of your entire pipeline and track your top performers
territory management to define roles once and apply them across all territories
sales data intelligence to compile and clean data on existing customers and find new contacts for cross- and upselling.
Sales Cloud is designed for large businesses and can be a bit complicated initially. It also only offers contact management with its base subscription – all other services require the upper subscriptions. If you're wanting to access all of these features, though, Sales Cloud is one of the more expensive products on this list.
Pipedrive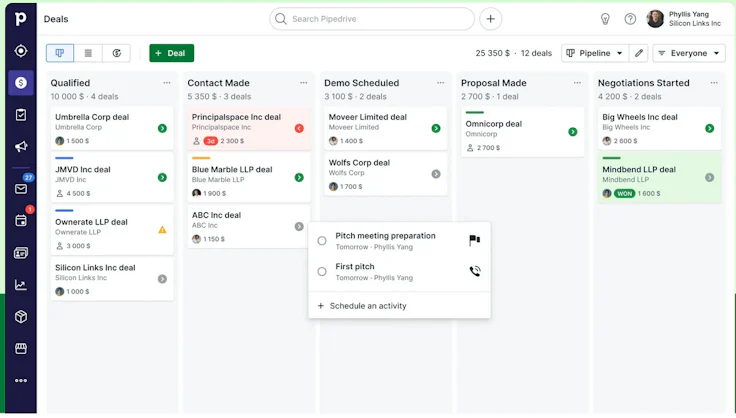 Pipedrive CRM has a simple but highly customizable interface that makes it easy to learn quickly. It offers desktop and mobile functions and is highly visual. The features include
Visual and customizable sales pipeline
Team collaboration and reminders
Segmenting leads
Reporting and dashboards
Contact history
Web forms
Revenue forecasting
Most features are available from the base subscription and they offer over 300 integration options such as Zoom, Asana, Slack, Gmail, QuickBooks, and more. Pipedrive works well for both small and large teams.
Maximizer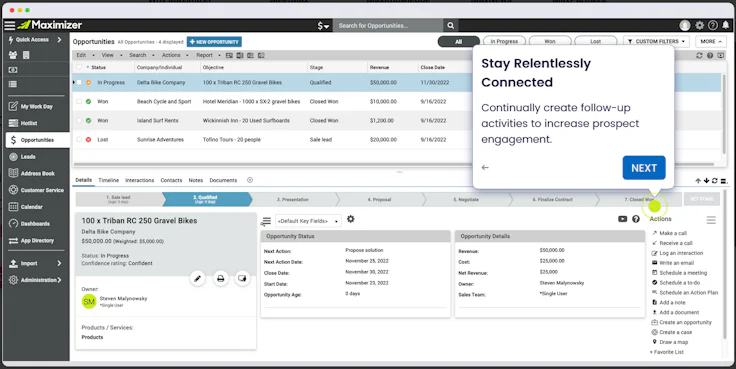 Maximizer is a cloud-based CRM that offers contact management and a webform builder that moves data from your website contact forms directly into the software. It also has MailChimp integration, including email marketing and templating. It allows you to segment your markets and clean your lists easily. It also allows you to track, optimize, and manage your campaigns and quickly analyze your results.
Act!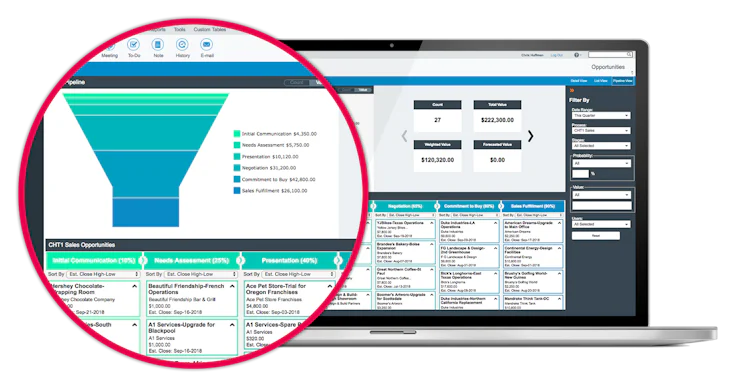 Act! Is a CRM product geared towards small and midsize businesses that offers both CRM and marketing automation. It offers both desktop and cloud products. Their key features are
Customer management

Relationship history
Information search
Centralized customer data
Offline and mobile access

Marketing automation

Personalized campaigns
Landing pages
Automated workflows
Real-time metrics

Sales pipeline management

Opportunity tracking
Sales process management
Pipeline management
Actionable insights

Activity management

Customer activities
Calendar and email integration
Prioritized task lists
Notifications and alerts
Act! lets users integrate with Outlook and create their own customized processes.
ClickUp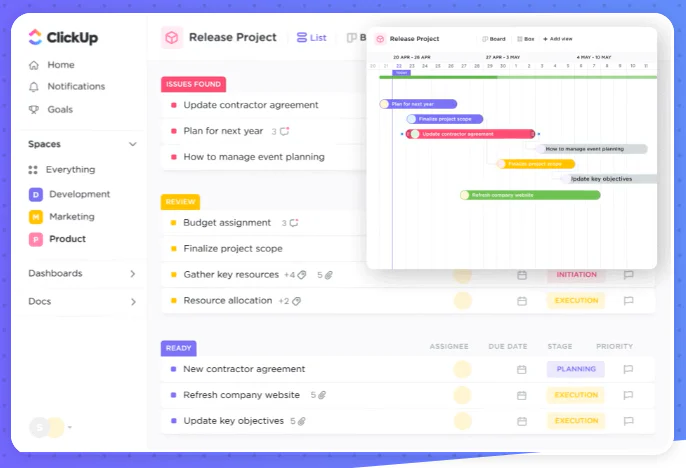 Clickup is a highly organized person's dream. It provides the "Everything view" that shows every task at every level of your organization, with options to filter, sort, search, and save anything you need. It also offers folders, checklists, customizable tasks, and nested subtasks to make sure that everything is easy to find and follow. It provides 15 different view screens to allow you to focus on each level of your project. It has automation, templates, and integrations to make sure you have everything you need all in one place. KPI dashboards and goal views make it easy to see exactly where you are headed with your sales and what each team needs to do to get there.
Clickup offers a free plan that includes a large percentage of these features and the paid subscriptions are the cheapest on this list.

A Comprehensive Project Management and Productivity Tool
Learn more about ClickUp
Freshsales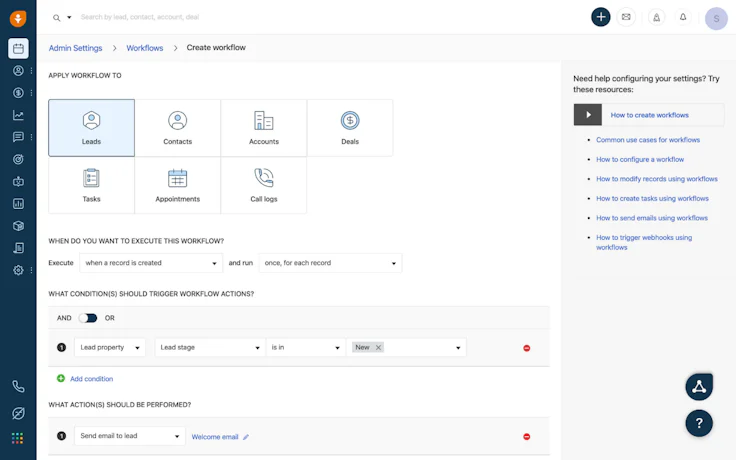 Freshsales is a sales-oriented CRM that offers a wide range of features for reasonable costs. Freshsales features include
Highlight cards for each customer with attached detail section
Connectivity with customers through any channel – phone, SMS, email, social media, chat, Zoom, etc.
Workflows and territory management
Multiple sales pipelines
Product catalog
In-depth analytics and AI
Customizable activities, processes, and layouts
Enhanced security with role definition and permissions
Freshsales also includes mobile access and integration with many Marketplace apps.

Free CRM Software for Sales Process Automation
Learn more about Freshsales
eWay-CRM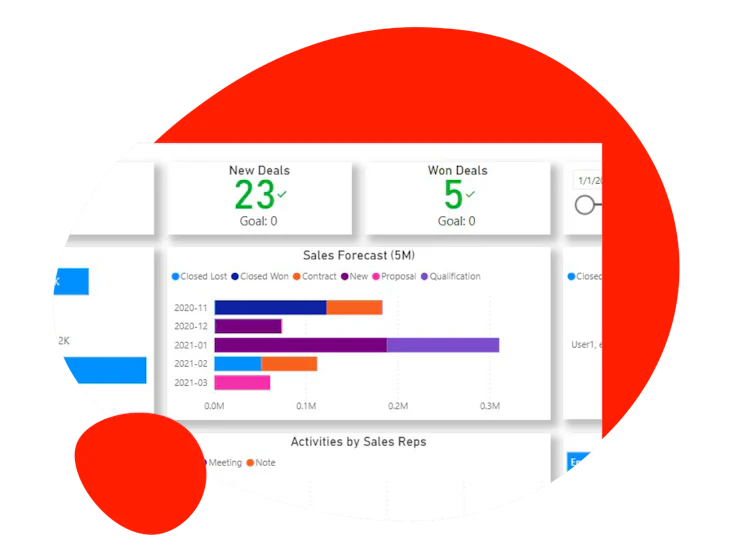 eWay-CRM is designed to run well with Microsoft products such as Outlook, so if your company already uses these Microsoft products, eWay-CRM should integrate seamlessly into your processes. It can be used on the cloud or on your company servers so that every team member can access sales information easily. You can customize views, forms, workflows, and permissions to create a CRM that works best for you. The software has the Zapier connector that allows you to integrate over 3,000 apps.
The lighter versions work well for independent businesses or small teams.
eWay-CRM is very email reliant, so if your company or team members do a lot of communicating on other platforms, this software may not be ideal for you.

Customer Relationship Management (CRM) Software
Learn more about eWay-CRM
Zoho CRM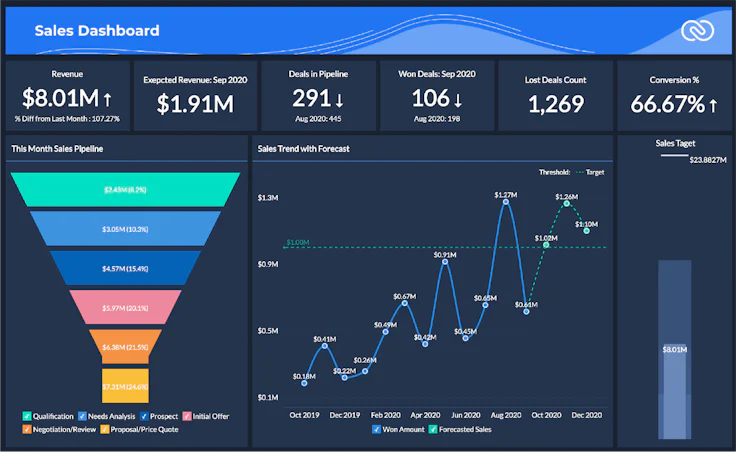 Zoho CRM offers two systems, one for solo entrepreneurs and microbusinesses and the other for mid- to large scale businesses. The enterprise version offers a host of features such as
Sales force automation
Canvas design studio
Process management
Multichannel communication
Analytics
Predictive sales
Customization
Team collaboration
The Bigin small business system offers features such as
Prospect engagement
Pipeline management
Data management and security
Both systems offer desktop and mobile services. The basic software costs roughly a quarter the price of the Zoho enterprise software.

The Smart and Efficient Solution for your Sales Team
Learn more about Zoho CRM
Individualized Solution Products
HubSpot CRM
HubSpot CRM offers a deconstructed version of the CRM software so that you can choose the services that you need. Each Hub has its own features.
Marketing Hub

Lead generation
Marketing automation
Analytics

Sales Hub

Advanced CRM
Meeting scheduling
Payments

Service Hub

Support tickets
Customer feedback
Knowledge base

CMS Hub

SEO recommendations
Website themes

Operations Hub

Data sync
Programmable automation
Data quality automation
HubSpot allows for integration with many apps like Google, MailChimp, Microsoft, and more. Businesses can choose which Hubs would benefit them most or they can purchase all Hubs together. They do offer a free version with limited features but the paid versions jump quickly in price from $46/month for the starter pack to 3,300/month for the enterprise offer, making this the most expensive product on this list. The paid plans offer marketing contacts with the software.

The all-in-one powerful software for sales
Learn more about HubSpot CRM
Microsoft Dynamics
Microsoft Dynamics 365 has multiple products for each business area that are designed to work with every team. There are marketing, sales, finance, HR, supply chain, and project management products built for enterprises. There is also a small and medium business software that is more comprehensive.
The highest individual sales product costs $135/month and offers features like
Identifying new clients
Discovering mutual connections
Engagement drivers
Customer tracking
Action analytics
Unified interaction view
Opportunity risk mitigation
The small and medium business product uses the cloud to connect sales, service, finance, and operations teams at $100/month.

Cloud-based CRM and ERP combining 200 apps
Learn more about Microsoft Dynamics 365
SAP CRM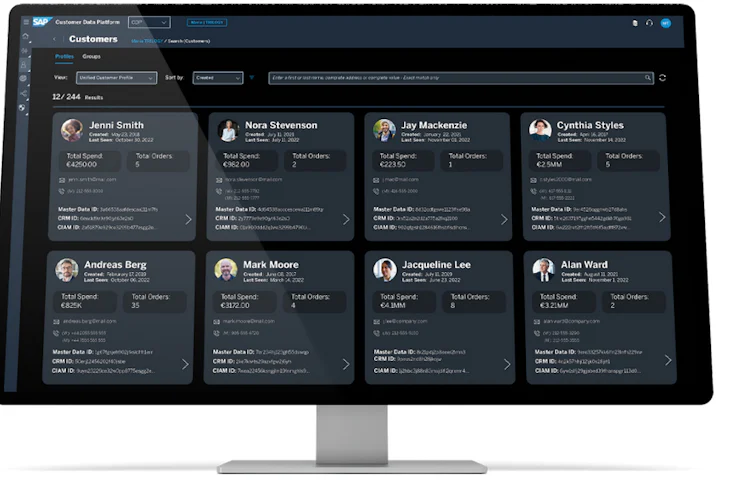 Sap CRM is divided into individual solutions products.
The Customer Data solution includes customer identity and access management, data privacy, and customer data platform solutions.
The Sales solution helps you understand and engage your customers, retain customers, and refine your sales process.
The Service solution communicates with your customers across all platforms, helps you diagnose and resolve issues, and protects your brand.
The Marketing solution automates your marketing campaigns and helps you execute them on a global scale.
The pricing for SAP CRM is not available on their website – it is only available by quote, which can make it difficult to judge its value when researching and comparing CRM products.

Lead Generation Software
Learn more about SAP CRM
SugarCRM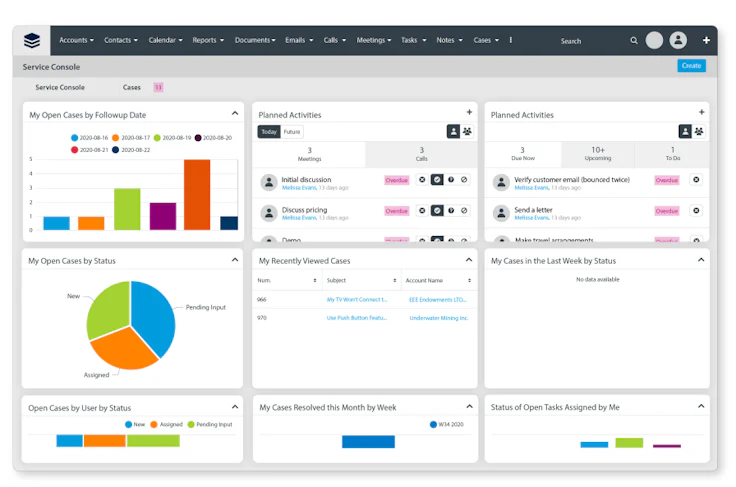 SugarCRM has multiple product options including:
Market, which provides marketing automation to align with sales and build the right pipeline,
Sales, which provides sales automation to accelerate your sales cycle,
Serve, which boosts customer service experiences, and
Enterprise, which provides on-site CRM so that businesses have maximum control.
While the individual products operate in the cloud, the Enterprise product is an on-site CRM solution that gives businesses full control over their technology and privacy with high customization options. It has multiple automation options that make data entry and analytics simple.

Open Source CRM and online customer relations software
Learn more about SugarCRM
CRM Wrap-Up
Customer Relationship Management products come in many forms. When looking for the best software for your business, it's important to keep in mind 4 things:
Cost
Ease of use
Functionality
Integrations
Most of the CRM products listed here offer free trials so that you can play around on each system that matches your criteria and be sure you are choosing the correct product for your business. The best CRM product for you will support your team throughout their projects.
Best tools for you