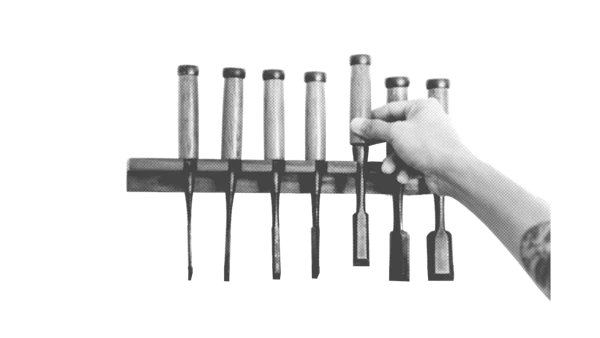 9 Highly Customizable CRM Systems for Better Sales Management
The ability to customize your own CRM allows your teams to better manage sales, marketing, and customer service from a user-friendly, business-specific workspace, be more productive and focus their efforts where it matters most.
For you to be able to choose the right CRM system for your organization, we have reviewed and compared 9 customizable CRM systems, each with their own sets of functionalities, pros, and cons.
What Is A Customizable CRM?
Businesses with unique and specific sales operations use customizable CRM (Customer Relationship Management) to design a CRM that best fits their operations and needs. Customizable CRM systems offer the ability to customize reports and dashboards, as well as configure widgets, programs and features, custom data fields, and more.
CRM customization allows your business to design business-specific workflows for your sales teams to facilitate their day-to-day activities, work more efficiently, and improve company revenues, without having to rely solely on programmers and software engineers.
Zoho CRM
Zoho CRM is an excellent entry-level and highly customizable CRM solution. It is mainly designed for the sales sector and you can modify it to match your business needs. The free plan is particularly great for small businesses that need to track leads and manage contacts. Businesses that need more robust features can upgrade to a paid plan. Zoho CRM also offers seamless integration with third-party tools such as Mailchimp, Google Analytics, and QuickBooks.
Features
modules Customization;
page Level Customization;
page Layouts Customization;
field Setting Customization;
templates Customization;
customize Dashboards, Views & Reports;
workflows & BluePrint Customization.
Pros and Cons
Pros
Highly customizable.
One of the oldest players in the CRM industry, which means Zoho CRM has developed a great sense of what technologies businesses need the most.
Equipped with offline mode which helps businesses cater to customers anytime, anywhere without limitations.
Cons
Automation is limited to the enterprise version which restricts productivity.
Customer support could be better.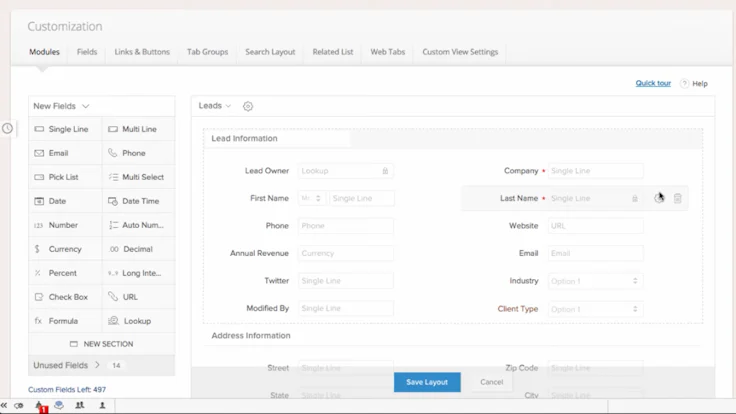 The Smart and Efficient Solution for your Sales Team
Learn more about Zoho CRM
Pipedrive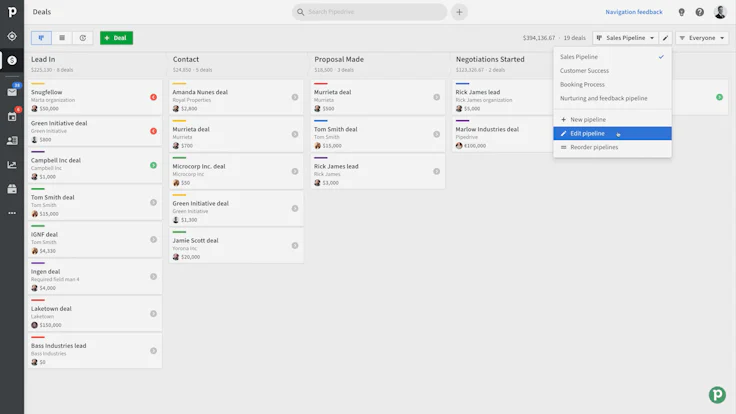 Pipedrive is a highly customizable CRM system that is designed to help you manage your sales process in a way that suits your specific business needs. Pipedrive enables you to customize pipelines, add custom fields and multiple currencies or use Pipedrive's Marketplace and open API to connect other software.
Features
custom pipeline stages (Sales stages, organize pipeline, edit stage attributes);
custom fields;
API;
custom real-time reporting and dashboards, from weekly updates to detailed annual forecasting reports;
multilingual multi-currency (22 languages, all major currencies, supports multiple currencies);
switch off features for efficiency.
Pros and Cons
Pros
Easy to customize and organize.
Unlimited customizable sales pipelines.
API access for full customization.
Cons
Limited custom fields and reports on most plans.
Phone support only on the highest tier.
No free plan.

Maximize your sales efficiency
Learn more about Pipedrive
ClickUp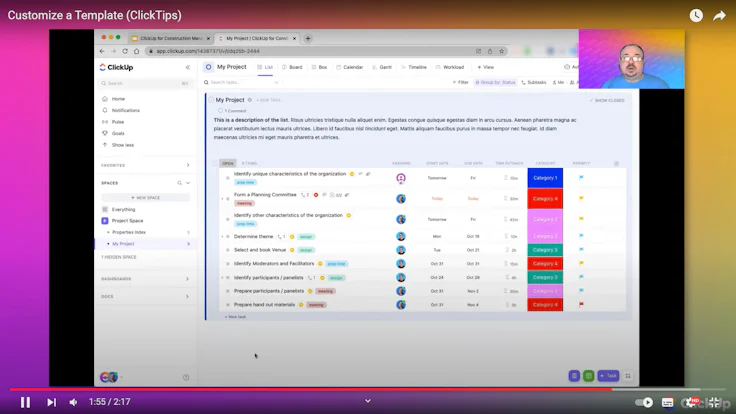 ClickUp is a cloud-based solution that is mainly known for its project management and organization capabilities. This system helps businesses of all industries with their CRM efforts and provides highly versatile and customizable solutions.
Features
possibility to create unique task fields to manage client phone numbers, emails, notes, prospect items, or anything else you can imagine;
customizable communication and collaboration tools: custom statuses and templates, custom workflows, task assignments, alerts, and a task toolbar;
custom features;
custom tags;
custom privacy settings.
Pros and Cons
Pros
Task management and planning.
High level of customization.
Integration with outside tools for free.
Cons
Mobile apps are not the best.
Report performance could be improved.

A Comprehensive Project Management and Productivity Tool
Learn more about ClickUp
CompanyHub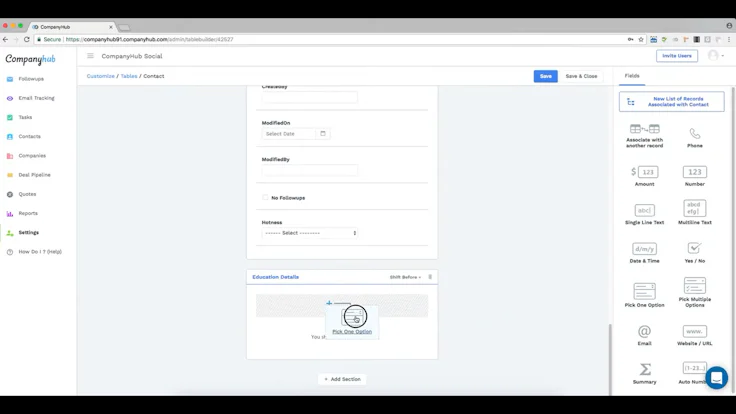 CompanyHub is a fully customizable CRM solution. It is low cost and especially suited for small businesses that want to automate time-consuming tasks and sales processes. This solution is great to track all aspects of your organization, lets you create sales bots, and automates your sales process in order to improve productivity.
Features
custom labels;
record filters: possibility to create new filters, change columns, and set default filters;
custom reports;
custom forms/tables with custom fields. This allows you to store any kind of data like Projects, Payments, Schools, Properties, Courses, etc.
Pros and Cons
Pros
Highly customizable.
Easy to use.
Good return on investment, good pricing.
Cons
No mobile access.
Email tracking is not at its best yet.
Salesforce Sales Cloud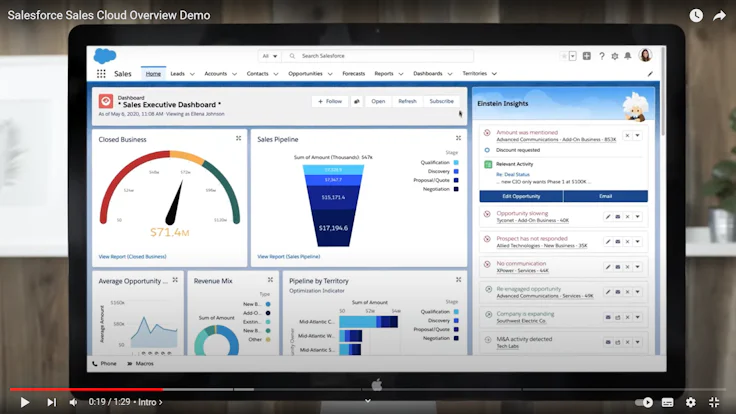 Salesforce Sales Cloud is a cloud-based CRM system that is designed to support sales and account management. Salesforce Sales Cloud handles contacts, accounts, reports, dashboards, and forecasting. It allows you to tailor the software to your needs by adding specific features that will help you improve overall efficiency.
Features
custom Reports;
custom fields and tabs;
standard objects: accounts, contacts, opportunities, and leads;
custom objects: this option allows you to add new objects specific to your needs to track anything you want;
custom processes and email templates.
Pros and Cons
Pros
Great customization capabilities.
Pretty user-friendly.
Great integration capabilities.
Cons
Automation doesn't always work great.
Pretty expensive.
Customer service is not very quick to react.
HubSpot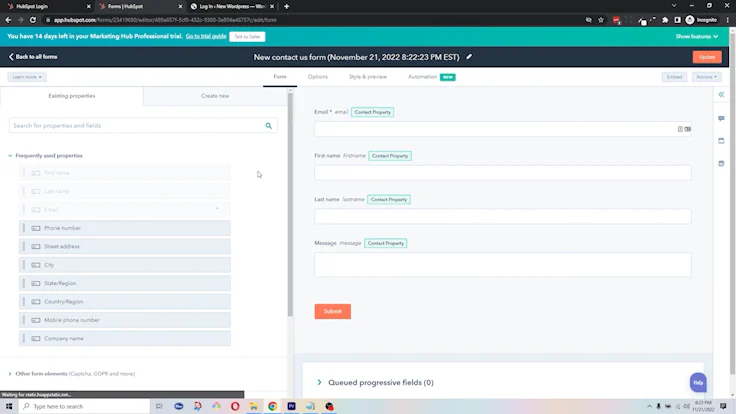 HubSpot CRM is a cloud-based integrated system that provides all the tools you need for marketing, sales, customer service, and content management. It provides a unified experience that facilitates team collaboration and helps businesses track, organize and close sales seamlessly. It can also be used as a single source of truth to empower your front office teams to deepen their relationships with customers and provide a best-in-class experience.
Features
customizable reports;
custom support form fields;
custom objects (contacts, companies, deals…).
Pros and Cons
Pros
Easy to use.
Easy to learn.
Centralized customer data for marketing, sales, and customer service.
Extensive App Marketplace to connect your other tools.
Great for workflow management.
Cons
Not cheap, making it hard to access for small businesses.
Could be more customizable.

The all-in-one powerful software for sales
Learn more about HubSpot CRM
Maximizer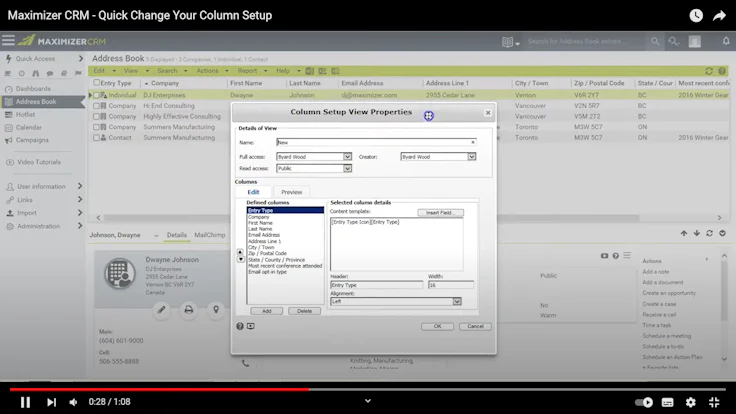 Maximizer CRM is an integrated CRM system that is suitable for businesses of all sizes across various industries. It provides simple, accessible CRM solutions for sales, marketing, and customer service teams. You can access customer information through a web browser, a mobile device, or on their desktop - on-premise and in the cloud.
Features
custom fields;
custom automated workflows and processes;
In-House custom development services;
personalized user interface;
customization with third-party tools.
Pros and Cons
Pros
Highly customizable system.
Excellent value for the cost.
Outlook integration.
Pretty easy to use, easy to adapt to, and intuitive.
Solution mobile.
Cons
Not the best for email integration functionality, and minimal integration with other third-party tools.
Data is easily duplicated or partially loaded.

Modernizing sales strategies for sales leaders
Learn more about Maximizer
Freshsales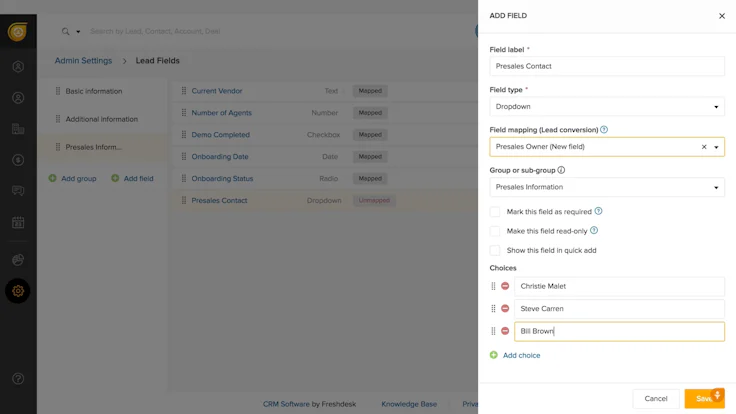 Freshsales cloud-based solution is one of the sales management and customer engagement offerings from Freshworks. It is suitable for small and medium businesses and is designed to provide all the features you need for lead management, customer engagement as well as sales management. Overall Freshsales is a good CRM system that has a lot to offer.
Features
custom fields (with labels, field type, groups…);
custom objects;
custom reports;
custom automated-tasks.
Pros and Cons
Pros
Pretty easy to use and intuitive/
Efficient with lead management as it helps generate, track, upload, convert, research, and organize leads effectively.
Cons
Integration is not so great with third-party tools but great with other Freshworks products and Zapier.
Free plan doesn't include a lot of options.

Free CRM Software for Sales Process Automation
Learn more about Freshsales
Zendesk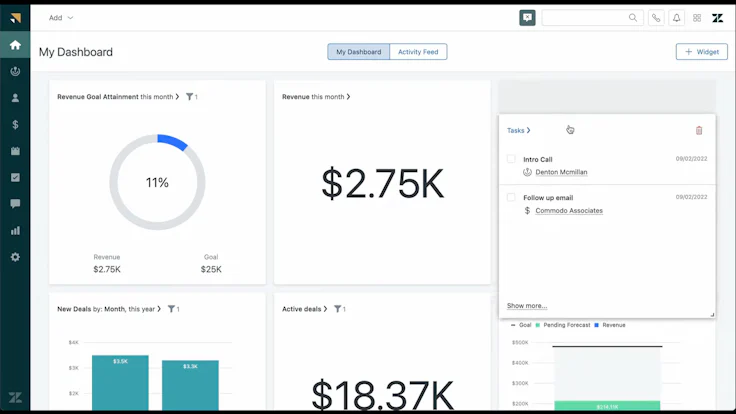 Zendesk is a cloud-based simple CRM solution that is also a customized CRM designed to meet your business needs. It is very easy to set-up and can be up and running in a day. Zendesk provides many tutorials and support material to help your teams quickly learn how to use it.
Features
custom dashboard;
custom fields;
workflow customization for support tickets (after integrating Sell and Support);
custom reports;
custom pipeline stages;
custom Lead statuses and tags.
Pros and Cons
Pros
Unified platform.
User-friendly, clean, and organized.
Help center with articles for self-service support.
Cons
Limited automation features.
Not cheap, but lower total cost of ownership.
Not very good support.
Powerful API, but sometimes a bit difficult to use.
#1 Customer Service Omnichannel CRM Platform
Learn more about Zendesk
Customizable CRM: final thoughts
Being able to customize your CRM system is key to optimize your day-to-day activities and sales. Thanks to customizable CRM systems, you don't have to rely on programmers and software engineers alone to develop personalized management tools
Depending on your business' unique sales operations needs, our advice is to be very careful when choosing your CRM system. The 9 programs we have analyzed in this article can all be easily adapted in order to make it easier for your business to manage business processes, improve internal communications, track progress against goals, and provide reports.
Best tools for you