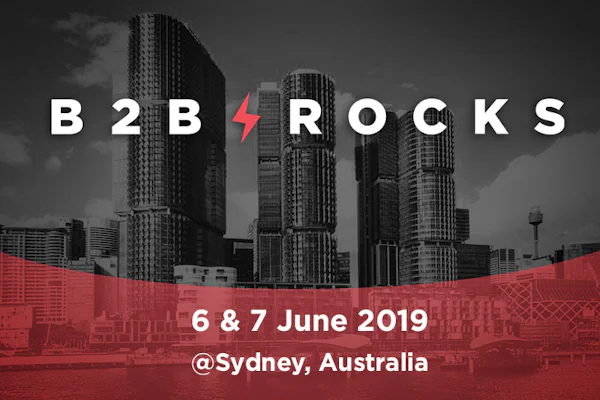 B2B Rocks Sydney 2019: The Premier Event for B2B SaaS Startups
The Event: an international influence, an event on a human scale
Launched by Alex Delivet in 2013, co-founder of Axeleo and founder of Collect, the B2B Rocks conference was held for the first time in 2013 in Paris, before expanding to Sydney in 2016. Axeleo acquired the B2B Rocks brand in February 2018 and is now the lead facilitator.
This conference brings together the key players in SaaS and B2B all in one place, though limiting the capacity to 500 participants.
This is a perfect opportunity for peer-to-peer exchanges and network development.
In addition to creating networking opportunities, this event promotes the exchange of ideas between startup executives and new talents which offers a high added value to all participants.
The Idea: to share advice that can be directly actionable
This major conference brings together founders and representatives of startups in the SaaS and B2B fields, as well as investors and journalists. The environment, which encourages emulation, is a fertile breeding ground for young startups seeking to stimulate their growth.
Fundamentally, the concept of this event is founded on the sharing of expertise at the crossroads of various fields, including marketing, sales, HR, as well as design, international and financial areas.
👉 The main objective of the event is to avoid "small talk" and to focus on concrete topics, so that participants can put in place clear strategies to achieve realistic goals.
Addressing a highly qualified audience, influential personalities from the B2B and SaaS world lead panel discussions and workshops. These activities encourage exchanges and the emergence of concrete solutions for startups wishing to learn from the experience of their peers, explore specific issues and address common challenges.
🏆During this event, the B2B Awards are also held, which award prizes to the most deserving startups.
A Look Back at the 2018 Sydney Edition
Organized by Australiance, the conference took place on August 9, 2018 in Sydney. The agenda of this day included the introduction of new technologies, innovations and the development of partnerships, to name just a few of the topics.
Key Discussions
Being Startup ready- How to avoid the most common mistakes large companies make when seeking to partner with Startups
How, as a female solo founder with no tech experience, I achieved ½ million downloads with 0% marketing expenses
The new technological trends of 2018 and beyond and their impact on a large corporation
Humanizing Innovations and how this will drive innovation with AI, Mixed Reality and IOT as well as opportunities for startups
The Self Driving Enterprise
Panel Discussions
Strategy / What does it take to go global as a B2B startup?

Strategy / Founder's Feedback for B2B startups
Product / #Blockchain: Stay clear of the hype, but benefit from it!
Sales & Marketing / Build your sales machine
Sales & Marketing / Establish your customer service strategy
B2B & SaaS Investor: Raising Capital
Workshops
Generating leads with account based prospecting (Andy Farquharson)
How to Create a Modern B2B Content Strategy (Elissa Hudson)
Increasing lead conversions with conversations (Andy Farquharson)
How to Close More Deals by Improving Sales and Marketing Alignment (Kat Warboys)
The day also included networking breaks and several rounds of the B2B Awards competition.
Agenda of the 2019 Edition in Sydney
The Expected Speakers
This year, the 4th edition of the event will bring together some of the most prestigious and internationally renowned leaders in the Australian B2B SaaS community, including:
Ciaran Hennessy - Global Head Of Technology Research And Development @ Lendlease
Jessica Ruhfus - Founder & CEO @ Collabosaurus
Damian Fox - Investment Director @ Carthona Capital
Sylvain Mansotte - Co-Founder & CEO @ Whispli
Dai Williams - SVP, Strategy and Partnerships @ SiteMinder
Ben Brophy - Co-Founder & CEO @ Upwire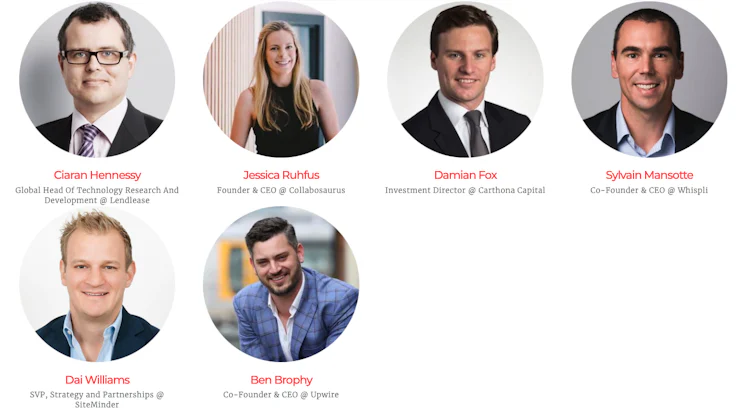 The Topics Covered
With Tech at the heart of the discussions, the program will be structured around the following categories: Future of Work, Future of Retail, Blockchain, PropTech, InsureTech, MedTech and more.
As in previous editions, you will find speeches, round tables, conferences, workshops and of course the famous B2B Rocks Awards 2019, which will be awarded to the most outstanding startups and scale-ups. The complete and detailed program of the event will soon be available, so stay tuned!
B2B Rocks Sydney 2019: Practical Information
When? Thursday, June 6 and Friday, June 7, 2019
Where? Lendlease headquarters, Barangaroo International Towers, Sydney, Australia
(see on Google Maps)
Find out more: all the latest information on Twitter @B2B_Rocks
To register, buy your ticket today!
Best tools for you