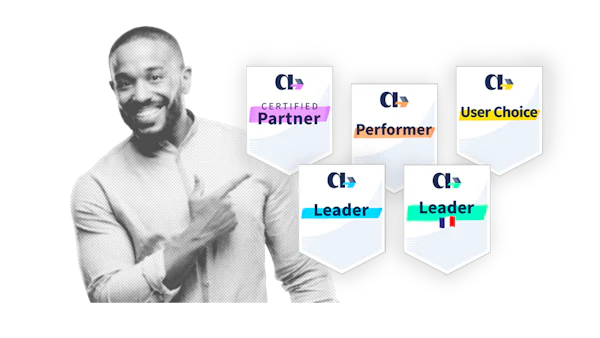 Appvizer Awards 2022
Every trimester Appvizer recognizes the best performing softwares on our platform. Thanks to an impartial algorithm, we're able to give out different kinds of badges:
Certified Partner Badge: certifies the quality of the information written by a software developer about their platform.
Performer Badge: singles out software programs that stand out from the crowd in terms of visibility.
User Choice Badge: recognizes the 7 most popular software programs for a category.
Leader Badge: for the 3 most searched software programs.
National Leader: given to the 3 most searched software programs, from a particular country, that stand out in their particular market.
Here are the awards given out, listed by category.
Congratulations 🎉
Marketing
| | | | | |
| --- | --- | --- | --- | --- |
| Badges | Leader | User Choice | Performer | Certified Partner |
| | ✔️ | ✔️ | ✔️ | ✔️ |
| | | | ✔️ | ✔️ |
| | ✔️ | ✔️ | ✔️ | |
Human Resources
Operations
| | | | | |
| --- | --- | --- | --- | --- |
| Badges | Leader | User Choice | Performer | Certified Partner |
| | | | ✔️ | ✔️ |
| | | ✔️ | ✔️ | ✔️ |
| | ✔️ | ✔️ | ✔️ | ✔️ |
| | ✔️ | ✔️ | ✔️ | ✔️ |
| | | ✔️ | ✔️ | ✔️ |
IT
| | | | | |
| --- | --- | --- | --- | --- |
| Badges | Leader | User Choice | Performer | Certified Partner |
| | ✔️ | | ✔️ | ✔️ |
CRM
| | | | | |
| --- | --- | --- | --- | --- |
| Badges | Leader | User Choice | Performer | Certified Partner |
| | | | ✔️ | ✔️ |
| | | | ✔️ | ✔️ |
Education
| | | | | |
| --- | --- | --- | --- | --- |
| Badges | Leader | User Choice | Performer | Certified Partner |
| | | | ✔️ | ✔️ |
| | ✔️ | ✔️ | ✔️ | ✔️ |
Finance and Accounting
| | | | | |
| --- | --- | --- | --- | --- |
| Badges | Leader | User Choice | Performer | Certified Partner |
| | ✔️ | ✔️ | ✔️ | ✔️ |
Travel
| | | | | |
| --- | --- | --- | --- | --- |
| Badges | Leader | User Choice | Performer | Certified Partner |
| | ✔️ | | ✔️ | ✔️ |
Communications
| | | | | |
| --- | --- | --- | --- | --- |
| Badges | Leader | User Choice | Performer | Certified Partners |
| | | | ✔️ | ✔️ |